Spinal Cord Injury Case Study with the SaeboMAS and SaeboGlove
Amy Bean
Monday, August 24th, 2020
---
---
In this case study, written by Anna Wilkinson Physiotherapist and Managing Director of More Rehab, we   describe the integration of the SaeboMAS and SaeboGlove in the rehabilitation journey of a 68 year old gentleman following a Spinal Cord Injury.
This gentleman was only able to use his upper limb in activities or exercises with hands on assistance from therapists or his care team. He was getting increasingly frustrated about the lack of chance to practice using his upper limbs and also the dependence of having someone else to physically assist him with every repetition.
It became apparent that the gentleman, who was highly motivated for rehabilitation, would benefit from the introduction of further adjuncts to help his recovery.
The SaeboMAS , a gravity eliminating device for upper limb rehab, was trialled before purchasing to incorporate into his rehab. By reducing the effect of gravity with the SaeboMAS, this gentleman was able to start more independent practice for both strength training and task training.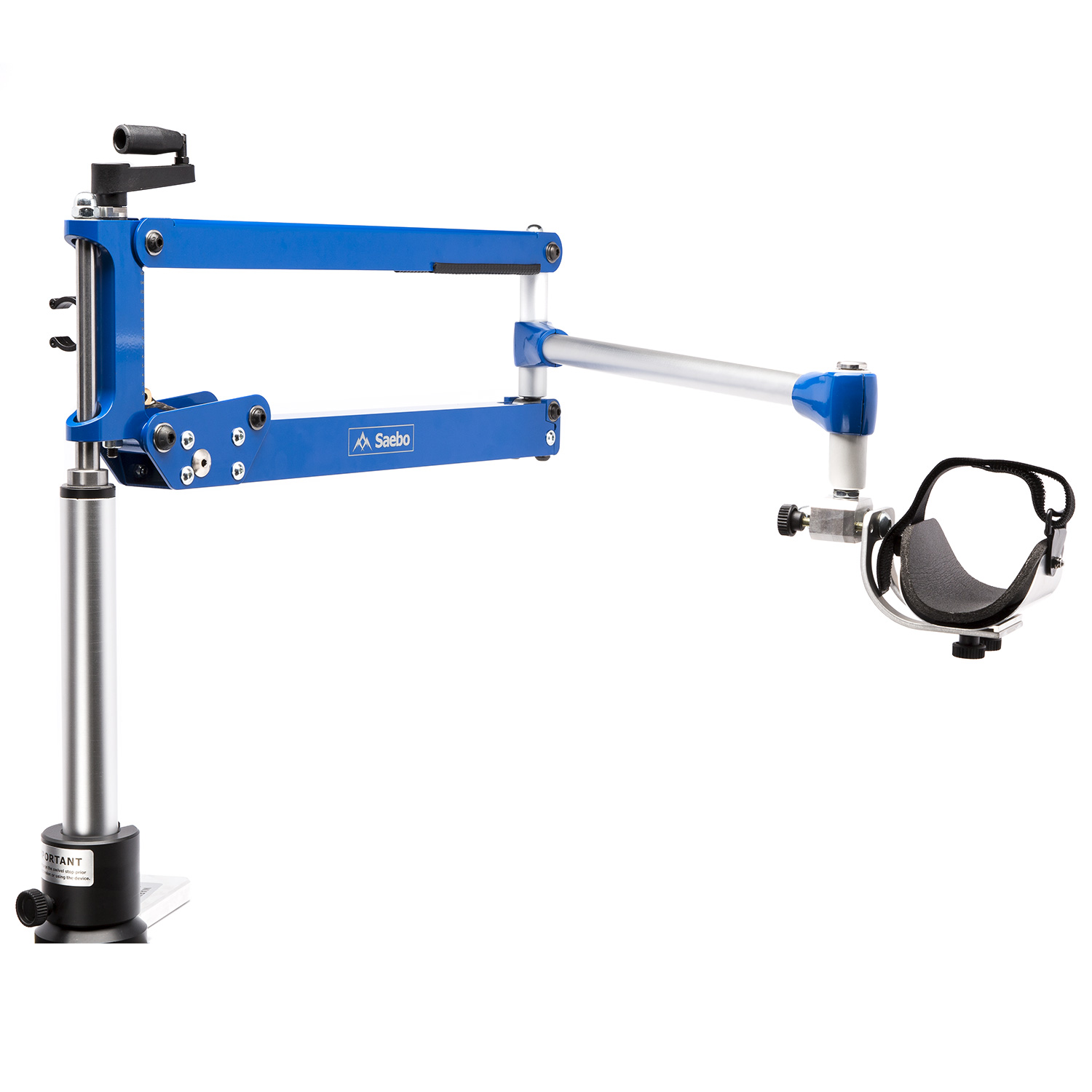 The Saebo MAS was introduced to allow practice of upper limb movements on multiple planes. It was initially introduced with zero gravity level to facilitate and challenge the weakened shoulder muscles. Carers were trained how to effectively fit the device so that daily use could be encouraged. It allowed the client to practice self-care and functional tasks which had relevance. The Saebo MAS allowed joint working with occupational therapy. It allowed progression of relearning normal movement patterns through highly repetitive task orientated drills. It was used in sitting and standing. We were able to change the resistance on the Saebo MAS in order to strengthen proximal and distal muscles through range.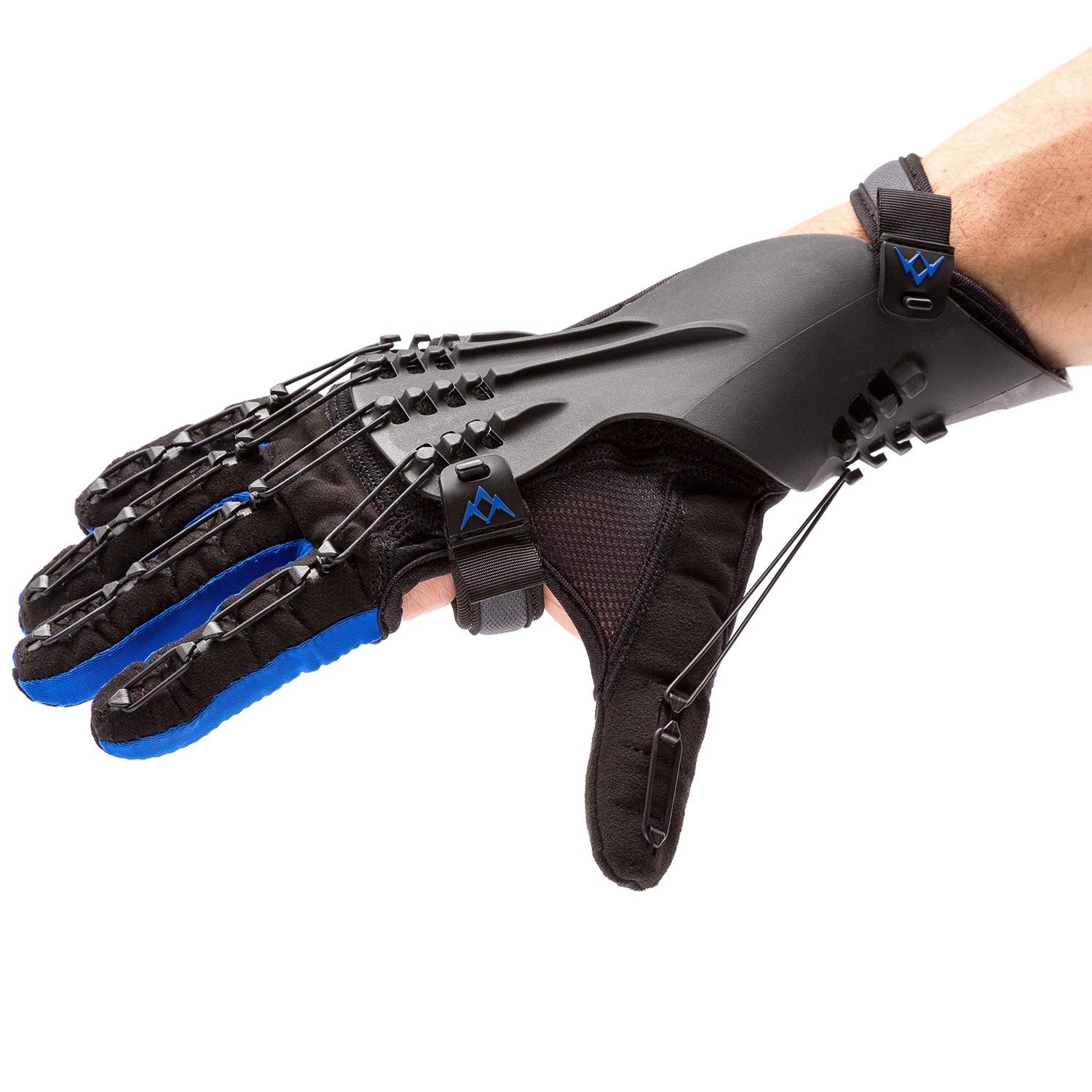 Once enough movement was recovered in his hands, the SaeboGloves were introduced to allow further practice of hand rehabilitation exercises. These light weight, dynamic orthoses allowed assistance at the finger and thumb joints with extension and allowed carry over to be established with further repetition of active hand exercises.
With the integration of this technology it demonstrated improvements in thumb to finger opposition, hand grasp of a small object and improvements in scores of both ARAT (Action Research Arm Test) and SCIM (Spinal Cord Independence Measure). The client was able to access the hydrotherapy pool using steps and upper limb facilitation rather than a hoist. There was increased active and passive range in his upper limbs with reduced pain. The client had improved motivation and engagement in upper limbs activities, grooming, self-care, eating and drinking. He was also able to grasp and release his rollator frame independently where he previously required assistance to manipulate his hands onto the frame.
The intensive, graded, customised programmes of rehabilitation using a wide variety of technologies (not just Saebo products) and adjuncts tailored to suit individual needs. The inclusion of the SaeboMAS and SaeboGlove meant that repetition could be integrated with relevant activities which engaged and motivated the client.
If you think you, or someone you know, may be benefit from trialling our SaeboMAS or smaller SaeboMAS Mini, then contact us for more information about our 2 week free trials (applies to the UK only)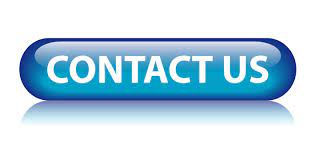 ---
---