Introducing the team behind Saebo UK
Amy Bean
Monday, March 2nd, 2020
---
---
Welcome to our first blog post. This blog will aim/try to cover UK specific topics in neurological rehabilitation so we thought we should start at the beginning with how Saebo UK first came about…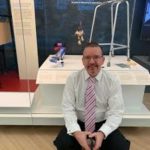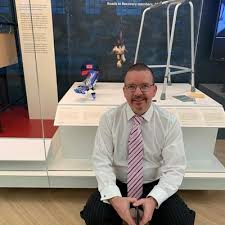 Glyn Blakey was working as a physiotherapist specialising in Neurology and first encountered the SaeboFlex through an internet advert. A stroke survivor he was working with had found it online and wanted the orthotic as part of their upper limb rehab programme. Glyn made contact with the 2 occupational therapists (OT's) in America who had recently set up Saebo Inc. and was told he wouldn't know how to set it up or use it. Always one for a challenge, he flew to North Carolina to meet these 2 OT's and learnt how to build/use the SaeboFlex. He was so inspired by their vision of #noplateauinsight, he proceeded to set up Saebo UK and the rest as they say is history.
To learn more about the history of the SaeboFlex you can visit
Medicine : The Wellcome Galleries exhibition at the Science Museum in London.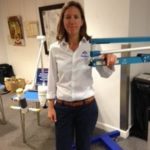 Amy Bean joined the Saebo team in 2009 as Clinical Specialist after using Saebo products in her NHS role on a busy stroke rehabilitation unit at York District Hospital.
To be at the forefront of neurological rehabilitation and offer technology direct to patients was an exciting challenge, so she jumped at the opportunity and has been with the Saebo team ever since.
With the support of our administrative "team" – Sarah O'Shea, Glyn and Amy travel the length and breadth of the UK giving talks and presentations to those that want technology options for neurorehab. As the number of Saebo supporters continues to grow, the use of video and online information has enabled them to continue to provide the level of support that Saebo aspires to.
Both Glyn and Amy have Masters degrees in Physiotherapy and have nearly 50 years of clinical experience between them in the NHS and private practice. This puts them in a good position to provide clinical support to both customers and therapists and they can be contacted in a variety of ways https://uk.saebo.com/contact-us/
Watch this space for future blog posts on a range of relevant topics. For clinical tips and exercise ideas, you can also read our Saebo colleagues' blog in America https://www.saebo.com/blog/
---
---
---